1.Product description
Apolo Online Ozone Concentration Analyzer APOLO-200,the key parts are supplied by USA APOLO,it can monitoring ozone concentration and ozone output capicity on line connect with ozone generator outlet,the measure range is 0-200mg/L.
Apolo-200 calculates the current ozone concentration online analyzer based on Lambert-Beer law by measuring the light signal intensity changes before and after ozone absorption to ultraviolet light.
With advanced double light path uv light source system, it can make the uv lamp quickly achieve measurement condition after booting, adopt the separate pools of light technology, has no leakage, high pressure, large flow gas shock resistance, with fully consider the user easy maintenance, easy operation and low cost design.
Application fields: widely used in ozone generator manufacturers, sewage treatment, chemical, waste gas, pharmaceutical, municipal and other ozone generator fields.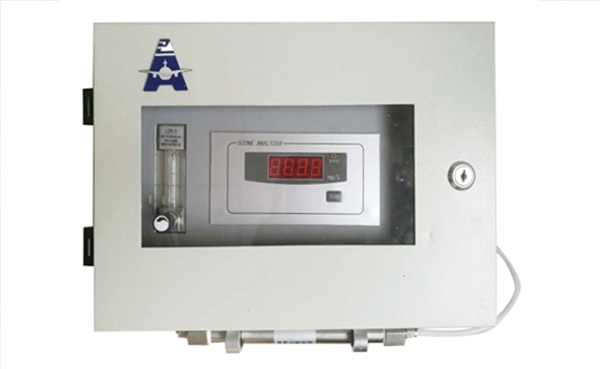 Principle introduction:
Measurement principle: according to lambert-beer law, it can accurately measure ultraviolet signal before and after photometric absorption.
Test method: double optical ultraviolet absorption method, high precision;
Light source system: American long life ultraviolet lamp tube (wavelength: 253.7nm);
Optical pool system: separate us optical pool technology, no leakage, high pressure, large flow sampling gas impact;
Intelligent compensation: automatic compensation function of built-in light source;
Automatic zeroing: the device automatically zeroing once every 1.5 hours to ensure the stability of zeros and the accuracy of detection concentration.
Data display: LCD backlight display, data shows clearly
Standard configuration: antiseptic flowmeter
| | |
| --- | --- |
| Range | 0-200g/m3 |
| Input gas flow rate | 1.2L±0.2L/min |
| Zero frift | <0.5% |
| Sampling outlet size | Φ6(6mm*4mm) |
| Output model | 差分4-20mA,线性 |
| resolution | 0.01g/m3 |
| Input pressure | <0.1Mpa |
| Response time | <1.5S |
| Communication type | RS-485 |
| power | AC 220V |
| weight | 4kg |
| dimension | 340*240*135mm |
| Checking cycle | 24个月 |
3.Advantages
APOLO - 200 ozone concentration analyzer with high precision, faster response speed, long life and uv light source (253.7 nm) advantages, the built-in light source intelligent automatic compensation function, wide test range of 0-245 - g/m3, wide voltage design (100 ~ 240 vac), LED backlight display, clear reading;Output 4-20ma current signal output and RS485 communication, equipped with dry, dust removal devices.