1.product description
Since the industrialization, variable pressure absorbing oxygen generation equipment technology is developing rapidly, because of its competitive price with high concentration oxygen performance , It's widely used in steel melting, oxygen-enriched blast furnace, glass furnaces, preparing ozone wastewater treatment, aquaculture, and other fields.
2.oxygen generator Principle and process description
2.1 Introduction of oxygen generator type
Oxygen generator is also called air separation equipment (air separation equipment). It has many types,.According to the working pressure, it is divided into PSA molecular sieve adsorption method and VPSA vacuum variable pressure separation method.
PSA oxygen generator is suitable for small and medium-sized production scale, 1Nm cubed/h-150nm cubed /h, and oxidation purity 90-95%.The medium and large ozone generator feed gas is using PSA oxygen generator
VPSA oxygen generator is suitable for medium and large scale gas production scale, suitable for gas production scale 150-10000nm cubed /h, oxygen purity 90-95%.In the metallurgical industry, the oxygen supply of the glass furnace is generally adopted in this process
2.2 PSA oxygen generator process description
2.2.1 Process and principle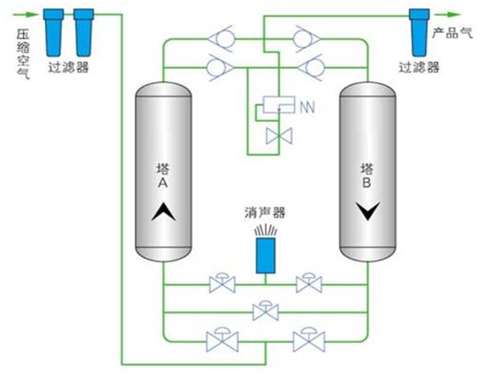 The oxygen generator system mainly consists of airdryer, an air cooler, afilter, air buffer tank, switching valve, adsorption tower, oxygen balance tank and flow meter.(see below picture)

2.2.2 PSA Oxygen generator technological characteristics
Space saving, cost saving, overall skid mounted, compact structure without infrastructure investment
Long last life for molecular sieve , large adsorption capacity, high compressive resistance and a service life of up to 10 years.
Taking air as feed gas,with low power consumption,high efficiency advantages
The requirements for PLC automation are relatively low. Air compressor, freeze dryer/condenser can be separately controlled from oxygen generator, or in combination
Advanced filling technology, multi-stage air distribution device and automatic compression device ensure the adsorption performance and compaction state of molecular sieve and effectively extend the service life of molecular sieve.
The time monitoring of instruments ensure the stability of gas purity and flow.
2.3 PSA Oxygen generator parameter
| | | |
| --- | --- | --- |
| NO | Name | Data |
| 1 | Oxygen flow rate | 10~2000 Nm³/h |
| 2 | Oxygen purity | 25%~93±2% |
| 3 | Oxygen pressure | 0.3~0.5 MPa |
| 4 | dewpoint | -40~70℃ |
| 5 | Feedgas pressure | 0.4 MPa≤P≤0.65 MPa;Negative pressure gas |
| 6 | CO content | ≤0.01% |
| 7 | Impurity oil conten | ﹤0.01 mg/h |
| 8 | Compressed air consumption | 0.5-0.8 Nm3/h;Negative pressure gas |
| 9 | power | 380V/220V/50Hz |
| 10 | Power consumption | 0.45~1800 kWh/Nm3 |
| 11 | relative humidity | <80% |
| 12 | Environmental temperature | 3~45℃ |